Engage-ing With Our Community
Nearly half of the OpenNTF board members were present at Engage - Paul Withers, Oliver Busse, Jesse Gallagher, Graham Acres and Serdar Basegmez. Hopefully everone had a good time at the showcase reception on Tuesday evening we co-sponsored with HADSL. We had a round table on Tuesday morning that was very well attended, with a lively discussion. In the build-up we posted seven poll questions on Twitter. Thanks to all who got involved, though because of technical challenges the questions were only posted during the opening session of Engage.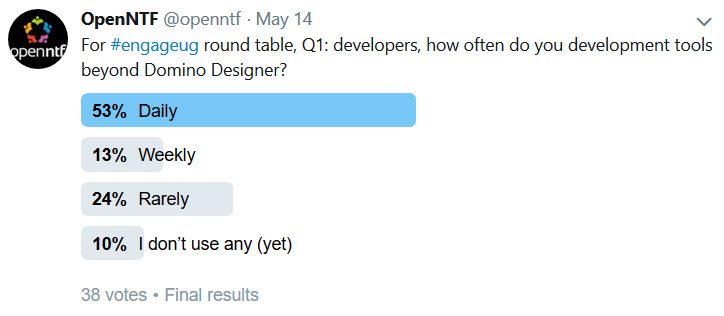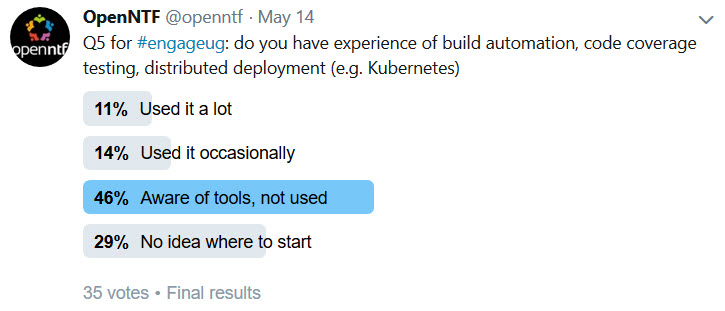 The results reinforced the theme of the round table, that the developer tools that will be used for development against Domino in the next decade will be different to those for the last decade. First off, we stated Domino Designer - enhancement or replacement - was out of scope of the round table. In terms of the rise of exposure to other development tools, this is already happening with sessions at Engage on Docker and more. But many have yet to be familiar with tools and techniques that are standard outside of the yellowverse. This was reinforced with responses around Maven, Gradle and npm. Although many had some experience (particularly of npm), few considered themselves familiar enough. This isn't surprising considering many confirmed they came from a citizen developer background. There are a lot of educational resources available, but they are not specifically targeted at our community and don't provide a simple single end-to-end tutorial taking you from zero to hero. But there was a strong experience of Java amongst the audience, as well as for XPages - not a surprise. There will be a lot of interest in the future Java domino-db module - hopefully integrating with proton and hopefully available centrally, like other Java SDKs, on places like Maven Central. In terms of proton and gRPC itself, there seemed not great understanding of performance metrics vs HTTP. Maybe this explains why so few have tried the app dev pack and may prefer to stay with more familiar options for REST services like XPages.
In terms of XPages itself, the final question to our audience confirmed that many would feel open sourcing XPages would be something they would welcome, and more than expected said that they would be interested in getting involved, although technical knowledge is of course a key requirement. What the future or best outcome on XPages will be, it's too early to know. PrimeFaces has been raised by some as a preferable framework, though not widely.
Regardless of XPages, Java or Node.js, Notes Client development has had a resurgence. And that option - probably the clearest RADD option - now supports mobile and, potentially in the future, web through the lightweight client. Sametime has a renewed focus as well, and it's worth reiterating that OpenNTF has always supported projects for Sametime as well. Once the deal closes, Connections is also expected to receive increased focus and we support projects for that too. It's best to finish our review of the round table with a tweet from Graham Acres, "We encourage members of the #dominoforever community to join and contribute. It doesn't have to be your own idea. Join an existing project. Write documentation. There are lots of opportunities to help each other. @openntf at #engageug"
Before we finish, we would like to wish a speedy recovery to our chairman Christian Guedemann.